A HOT TICKET presentation
TANYA TAGAQ  
NANOOK OF THE NORTH
CELEBRATION OF NATIONS FEATURED PROGRAMMING - PARTRIDGE HALL  
This passionate 2014 Polaris Music Prize-winning Inuit throat singer fuses electronic and contemporary influences with traditional culture. Tagaq has reclaimed the controversial 1922 silent film Nanook of the North. She transforms the images by employing exquisite improvisations and traditional sounds that add tremendous feeling and depth. This compelling mix turns racially-charged clichés into beautiful representations.
"The polar punk who makes Björk sound tame." - The Guardian 
MEMBERS: $30 (please login to access discounted tix) 

REGULAR: $35  STUDENTS: $25


VIP SWEET SEATS: For just $30 more, you can sit in one of our 

limited box suites for an even sweeter view! 






Tanya Tagaq features violinist Jesse Zubot, and percussionist Jean Martin.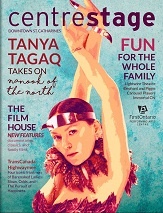 Tanya Tagaq collaborates with A Tribe Called Red for their latests album 
We Are the Halluci Natio
n
. 

Read more via Exclaim!