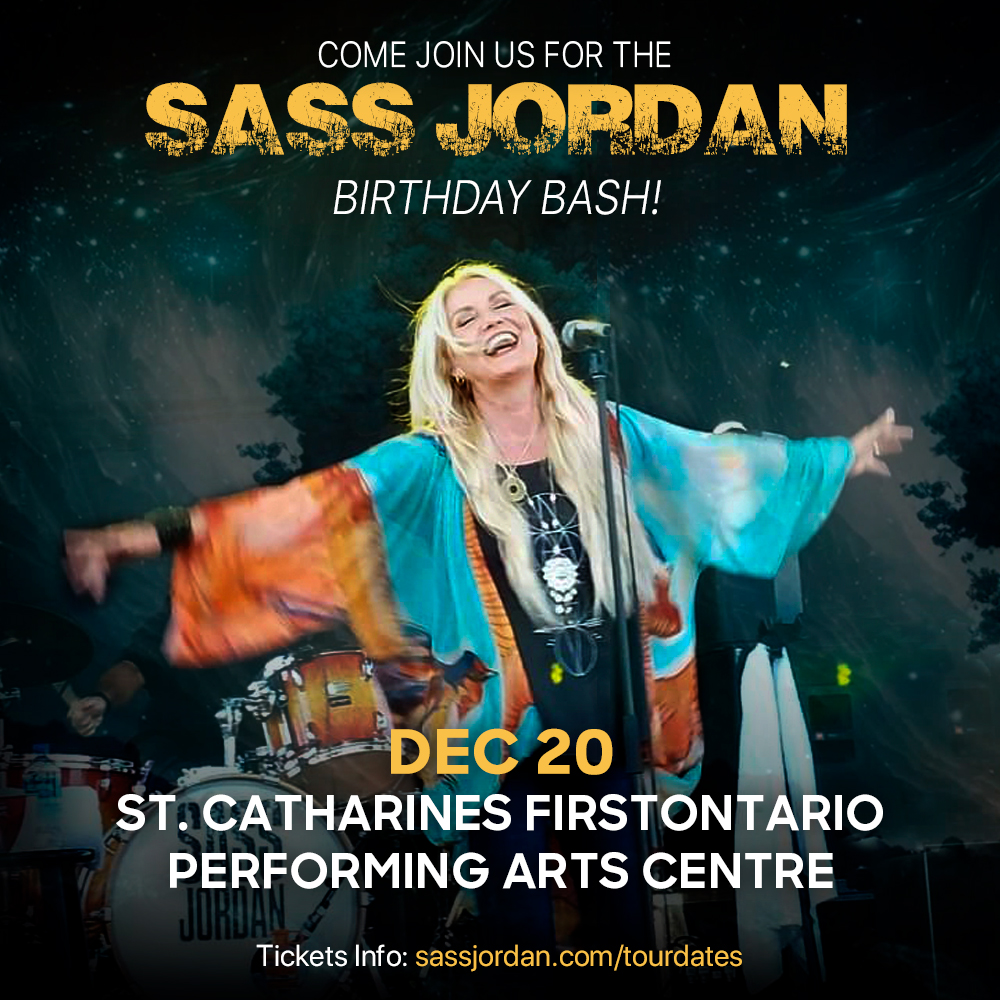 FirstOntario Performing Arts Centre presents
Sass Jordan
w/Skye Wallace
WED 20 DEC AT 7:30PM
PARTRIDGE HALL 
The roots that grew Canada's Queen of Rock, Sass Jordan, started in Europe and edged across the pond to the veins of metal pulsing in the musical metallurgy of Montreal in the 70's. Montreal's burgeoning '70's scene included a 'no holds barred' approach to glam, punk, blues, prog, metal, country, jazz, folk, with the added attraction of a homegrown sound created by the Quebecois artists of the decade, unique to the landscape and pertinent to the denizens of the period. There was no better musical place to be in the '70's- and this was the backdrop that nurtured one of the pioneers of female fronted rock – Sass Jordan.

In the years since these auspicious beginnings, Sass has found herself working with and in the company of many of the people that inspired her to do what she does, amongst them the incomparable Aerosmith, The Rolling Stones, AC/DC, Steve Miller Band, Van Halen, The Foo Fighters, Cheap Trick, Santana, Joe Cocker, Styx, Rodger Hodgson, April Wine, Jeff Healy, and countless others. She has won various awards, including Juno and Billboard, and has sold over a million records worldwide.

Sass was a feature actor in the episodic tv show Sisters, and from 2003 to 2008 starred as one of the four judges on the hugely popular television series, Canadian Idol. Her songs and performances have been featured on numerous television shows, including the iconic 90's Baywatch and Knight Rider, The Dennis Miller Show, and SyFy's Defiance.

There are very few female singers out there that are used as an example to describe a sound/style, but Sass is one of them.
"Sass Jordan is undeniably one of the biggest voices in Canadian music. Rightfully dubbed by many as Canada's "Queen of Rock," Jordan has consistently wowed fans album after album and is a brilliant live performer." - Canadian Beats

SKYE WALLACE
With a skill in carving melodies and shredable moments from rock foundations, Skye Wallace is also an expert at proving herself in every room, at every turn. The guitar-slinging Canadian road warrior has honed a visceral and honest sound, permeating equal parts Courtney Barnett, Patti Smith, and Neil Young's Marshall Stack era. A live show from Skye and her band is guaranteed to make you let loose and feel something.

Shaped by an upbringing of constant motion, and a career that has seen her tour the country endlessly with respected acts such as Matt Mays and Crown Lands, Wallace is at home with the idea that change, especially in oneself, is a constant. This truism, equal parts empirical and emotional, has shaped these new songs, finished during lockdown but dealing with a time when staying in one place was wishful thinking. For Wallace, there's both comfort and conflict in remembering and reconciling the versions of herself formed at the many stops along the way.  
"Skye Wallace dresses her radio-friendly sensitivity in rock music hooks and a brash vocal delivery – the leather-and-lace approach." - Globe and Mail
Regular: $55
Members: $49
All tickets are subject to HST.