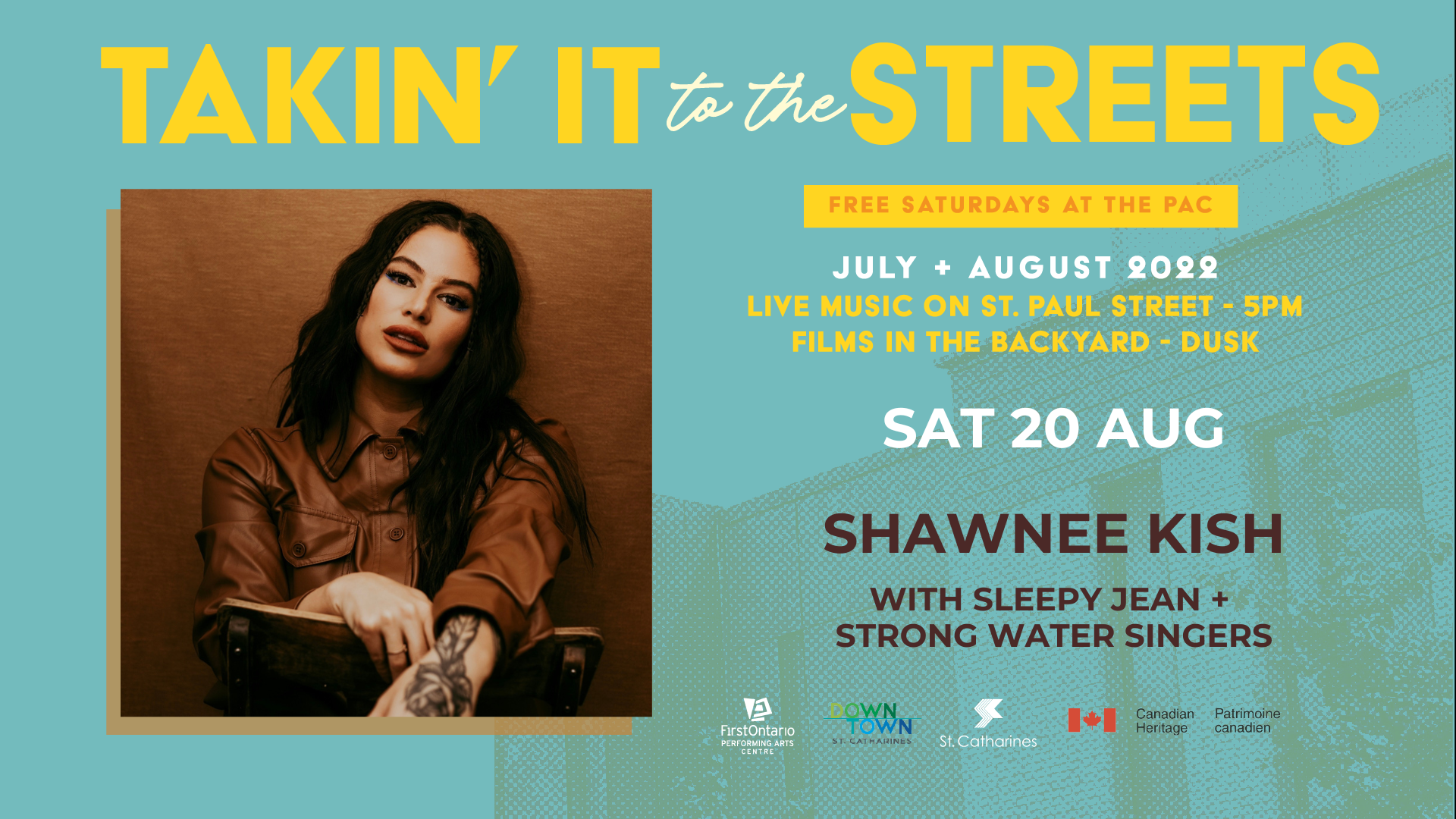 FirstOntario Performing Arts Centre presents
TAKIN' IT TO THE STREETS
Featuring Shawnee Kish with Sleepy Jean + Strong Water Women
SAT 20 AUGUST AT 5PM
FREE! 
ST. PAUL AND CARLISLE STREETS - DOWNTOWN PROMENADE
BRING YOUR OWN LAWN CHAIR OR SIT ON THE PATIO OF ANY NEIGHBOURING RESTAURANT OR CAFE FOR PRIME SEATING! 
SHAWNEE KISH
Shawnee Kish is the winner of CBC's 2020 Searchlight talent competition and one of the winners of the Allan Slaight Juno Master Class program for artist development in 2021. Kish has been celebrated as one of North America's Top Gender Bending Artists (MTV), named by Billboard as an Artist You Need To Know, and continuously uses her music to empower. An outspoken advocate for her Indigenous and LGBTQ2+ communities, she is a proud Two Spirit Mohawk who has shared the stage with some of the world's biggest names—Lady Gaga, Madonna, and Alicia Keys, to name a few. 

Kish released her debut self-titled album in 2021 and was nominated for Contemporary Indigenous Artist of the Year at the 2022 JUNO Awards. She recently signed with Amelia Recordings, a boutique Canadian label, and has several songs ready to release in 2022, including "Mr. Tie" a no-holds-barred retort to every man who ever tried to make Kish into what she's not, summed up in the lyric: "you don't like my attitude / I'm good, boy, I don't need you to." She also
continues her work with the We Matter Campaign and Kids Help Phone in hopes of empowering youth, providing strength, and hope through music.

SLEEPY JEAN
It's the sound of a song you half remember. A voice from some faraway radio. A glimpse of a now scratched record. You pause, reaching into that dark recess of memory for a brighter recollection, and return with... nothing. Just the sensation you've forgotten something you were once so sure you knew. There was never any satisfaction to be found: Sleepy Jean's soul-tinged sounds of yesteryear are all her own.
 
Spending the better part of a decade frequenting tourist traps and hole-in-the-walls, Sleepy cut her teeth sliding self-penned songs in amongst those of her contemporaries. Her wistful, smoky voice is a time capsule of influences, but is best known for that inimitable quality that evokes salty tears and bloody bar fights alike. Her first recorded offering, Idle Hands, made its way into the world midsummer 2021 and was described as "a bygone meets modern flair of New Americana for Dreamers" (Glide Magazine).





FirstOntario Performing Arts Centre presents
FRESH AIR FLICKS
RUMBLE: The Indians Who Rocked the World (2017)
SAT 20 AUGUST AT DUSK
 
FREE! 
PAC BACKYARD - MANN RACEWAY PLAZA
BRING A BLANKET AND A FRIEND! 

Sponsored by CAA Niagara

RUMBLE: THE INDIANS WHO ROCKED THE WORLD


RUMBLE explores how the Native American influence is an integral part of music history, despite attempts to ban, censor, and erase Indian culture in the United States.

As RUMBLE reveals, the early pioneers of the blues had Native as well as African American roots, and one of the first and most influential jazz singers' voices was trained on Native American songs. As the folk rock era took hold in the 60s and 70s, Native Americans helped to define its evolution.

"It's certainly one of the best music docs I've ever seen..." - Decider
Made possible with support from City of St. Catharines, Downtown Association and Department of Canadian Heritage.