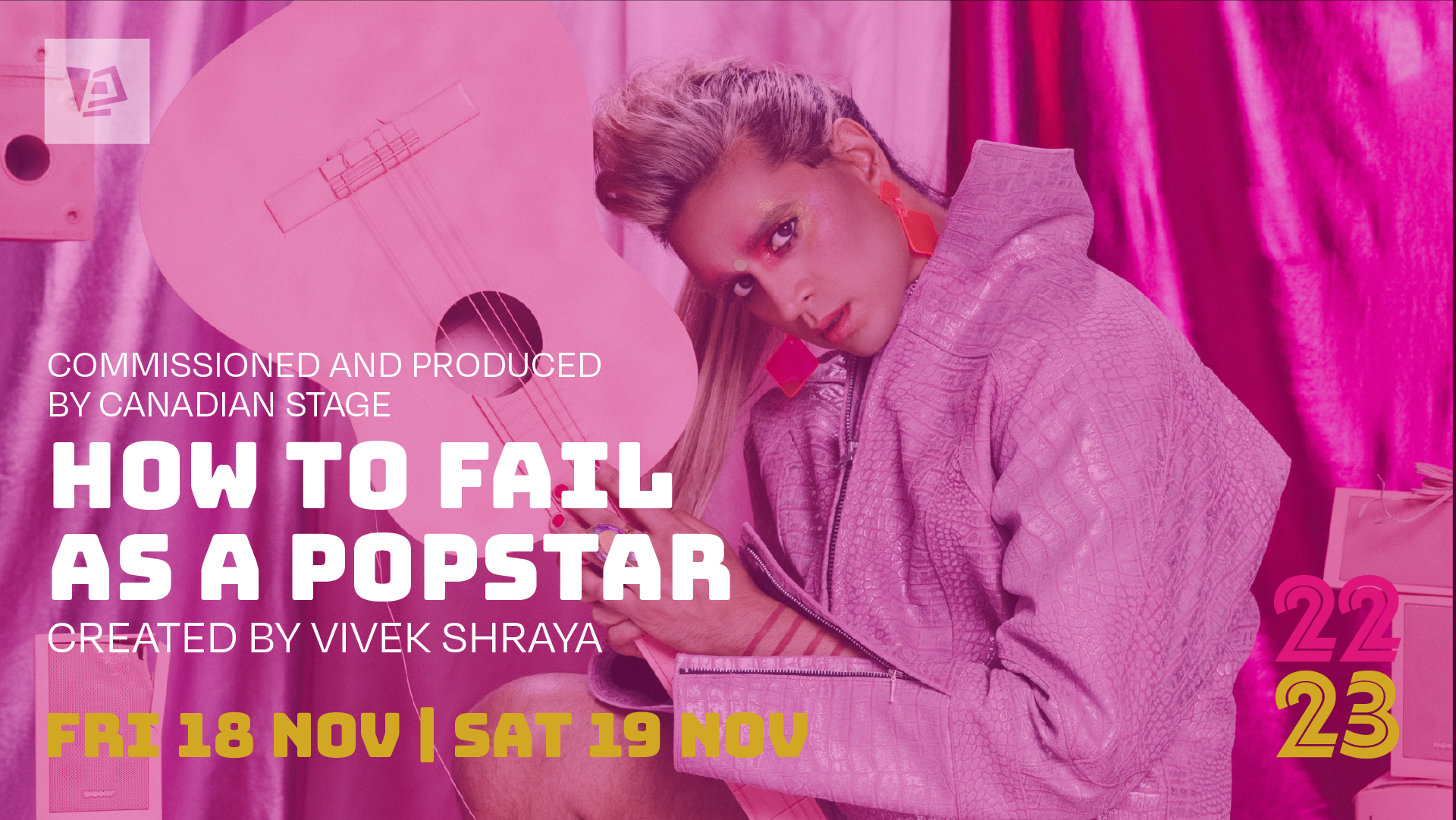 Commissioned and produced by Canadian Stage 
FirstOntario Performing Arts Centre presents
How to Fail as a Pop Star
Created by Vivek Shraya
FRI 18 NOV 2022 AT 7PM
SAT 19 NOV 2022 AT 2PM + 7PM
ROBERTSON THEATRE
How to Fail as a Popstar traces Vivek's story from her early childhood days in Edmonton where she sang Hindu bhajans to impress God on the weekend and New Kids on the Block during the week to impress her classmates; to her teenage years performing in singing competitions at the West Edmonton Mall; recording her first pop album (which was paid for with a $20,000 bank loan co-signed by her mother); and eventually moving to Toronto to pursue her popstar dreams (only to have them thwarted by a domineering, online bingo-addicted manager). Through storytelling, movement and song, Vivek charts her journey to "not quite" pop music superstardom, creating a moving theatrical performance that is a reflection on the power of pop culture, dreams, disappointments, self-determination, and finding one's authentic voice.
Regular: $30
Members: $25
University/College: $25
High School/eyeGO: $5
All tickets are subject to HST.
Recommended for ages 16+
"A moving tale that any person who's struggled to achieve their dreams can easily relate to, and Shraya has a certain magnetism to her performance that keeps the one-woman show moving fluidly."
— Broadway World
"How to Fail as a Popstar is a qualified success. —
The Globe and Mail
(★★★☆)
Generously supported by the Ontario Arts Council.

Photo by Vanessa Heins